Become a Host Family in San Sebastián de los Reyes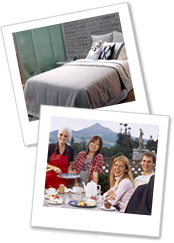 Interested in becoming a host family? Hosting an international student is a great way to make new friends and find out about other cultures. It gives you a unique opportunity to act as an ambassador for San Sebastián de los Reyes and to show your young guests what your life and culture is really like. And of course these are paying guests, so you will of course be financially very well compensate for hosting.

Gomfy offers people, families and apartment owners a platform to showcase and rent their accommodation effortlessly to international students. It's free to sign up and with a built in community, your listing will be seen by a worldwide student audience.
Gomfy is a community marketplace that lets users discover, book, and list homestay accommodation in San Sebastián de los Reyes.
We provide our hosts a full array of value-add services such as multi-lingual customer services, control over seasonal rates and availability, quick turn around on promotional activities, to name but a few. Once you sign up and complete the relevant information, your accommodation will be published on the Gomfy website, featuring its own web page and including description, photos, map and details on services offered.
Why become a host family with Gomfy?
Free to list
No registration fee, no fixed costs GUARANTEED! A deposit, equivalent to our commission, will be charged to the guest only at the time of booking.
Your place your rules
You are the only one who decides who will rent out your place. You can make contact with your guest beforehand, and check out profiles, reviews and recommendations to determine who your next guest will be. You are totally independent and free to fix your own conditions, prices, and rules for your place.
Online host information management tool
Our user friendly host login allows you to maintain and update your accommodation information, update seasonal prices and communicate with potential guests.
Broad Marketing exposure
Our service is made available through more than 500 distribution partner websites and 652 language schools worldwide. We also invest in Search Engine Optimization and pay-per-click advertisements so your accommodation can be found by customers anywhere in the world.
Dedicated 'microsite' to showcase your accommodation
Your accommodation will be published on the Gomfy website, featuring its own web page and including description, photos, map and details on services offered.
Multi-lingual Accommodation content
Thanks to this multilingual interface, you will be able to increase and optimise your exposure to an international audience of students.
Multiple listings
Manage multiple accommodation listings around the world with one account.
Who can be a Host Family?

Host families come in all shapes and sizes, and include:
-Working parents
-Couples without children
-Singles and single parents
-Adoptive parents
-Empty-nesters


The first and foremost requirement is that the student should feel welcome and well looked after and treated as a member of the family during his/her day!
As a host family, you play a unique role i helping students discover life in San Sebastián de los Reyes. We expected you to welcome the students into your home as a member of the family, rather than as a guest or tourist. You are responsible for introducing your student to your culture through the normal support of a caring, understanding family. Host families should provide affection, meals, a bed, and more - just as you would for your own family members.
It's very important that you speak with your student as much as possible and give them the opportunity to speak your language, after all it is the main reason they are here. Often the students are given homework/projects where they must speak with their host family. It may be difficult for them to approach you, so please encourage them to speak with you and your family, ask them how their day went, what they did in school, etc. Ask them about their home country, their family, etc. Students tend to learn more from their host families than their classes and a host family; you play a vital part in the student's language development.
Ensure to involve your student in your family activities and make time for them - eat meals together, go for a walk, watch TV together.